Live Wedges & prestressing wedges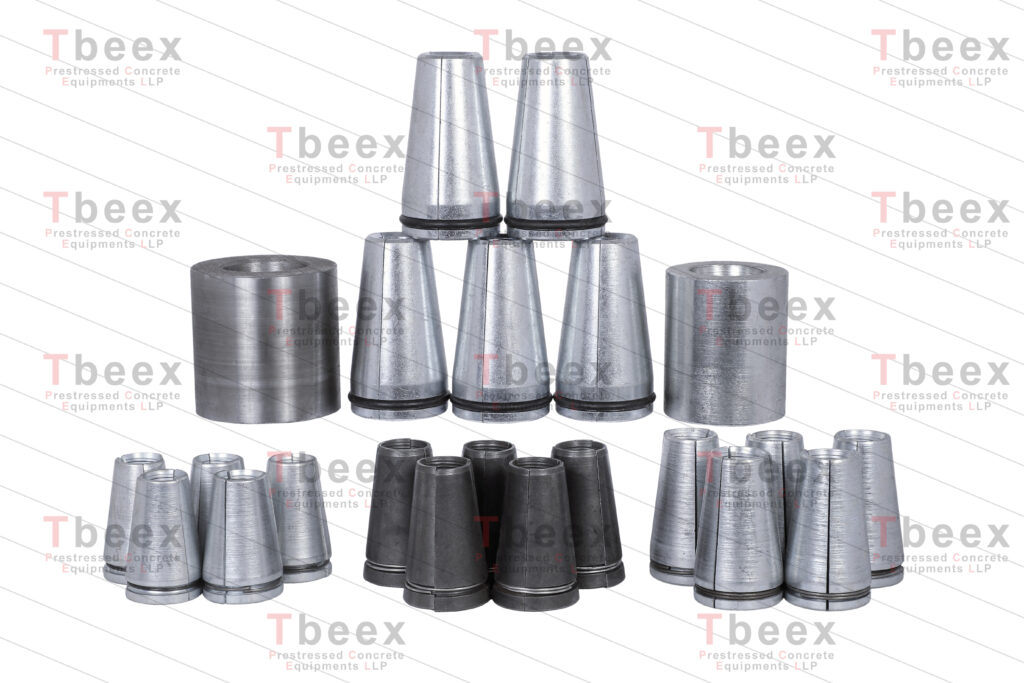 We are most trusted Live Wedges & Prestressing Wedges Manufacturer in India. We supply Master Wedges & Anchor Cone to contractors and construction businesses all over India.
Prestressing Wedges is a critical component of bonded as well as Unbonded post tension system because once the casted concrete attains sufficient strength prestressed concrete strand is stressed with the help of a hydraulic stressing jack and pump. Once the specified prestressing force applied to prestressed concrete strand this force is transfer to concrete through Anchor Head and Live Wedges system so it's very important that manufacturing of Live Wedges done through a rigorously design manufacturing process to attain quality products at the end.
prestressing wedges Supplier
Live wedges can be used for single time only and it will be the permanent part of anchorage system once stressing procedure has been done. Wedges are Pieces of tapered high-strength heat-treated steel with internal serrations (teeth) that penetrate the prestressing steel during transfer of prestressing force. While master wedges is used in stressing Strand Jack for stressing purpose. Master wedge is design to use multiple times. Master wedges have a huge application in pre tensioning industry because of it's multiple time usage.
wedges and barrels
Live wedges have a buttress threading in inner side where it get contact with pc wire which is the very critical area. We are having strict quality assurance policy to check quality of wedges manufacture in our factory to ensure it's Sheathing Pipe smooth functioning at site.
Live Wedges Manufacturer in India
We at TBEEX PRESTRESSED CONCRETE EQUIPMENTS LLP Manufacturing variety of live wedges as well as master wedges suitable for 3 mm, 4 mm, 5 mm, 12.7 mm, 15.2 mm. We are making 2 segmental as well as 3 segmental wedges. 2 Segmental wedges mainly used in unbonded post-tension system and 3 Segmental wedges mainly use in bonded post tension system. Unbonded system is popular in post-tension slab in building and Bonded system is popular in log span major bridge construction.
For Any inquiries regarding Live wedges and master wedges please feel free to click on call now button shown at left of website.
To Enquire More, Fill This Form